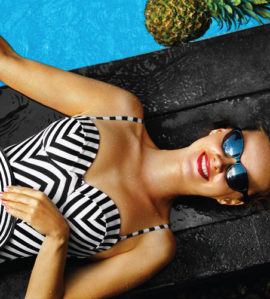 Protect your eyes this summer with useful tips from Nicolaides Opticians!
We often find ourselves taking care of every little everyday detail, while forgetting that eye care has an immediate impact on the way we experience the outside world. By doing very small, seemingly unimportant things however, we can secure our eye health, especially during the summer months, when our eyes need even more protection due to increased sun exposure and high temperatures.
Exposing our eyes to the sun and UV rays increases the risk for the development of medical conditions such as cataract, keratitis and retinal diseases. This is why opticians ask the public to heed important warnings during the summer, advising individuals to always choose sunglasses with quality lenses and 100% UV absorption. It is also equally important to wear them correctly, covering the eyes from all sides in order to prevent the sun's rays from coming in contact with the pupil, as much as possible.
Nicolaides Opticians have both the means and the necessary expertise to offer trustworthy eye care, throughout the summer months. With free eye tests at all stores, and new internationally acclaimed quality sunglasses collections for all styles and needs, Nicolaides Opticians helps you welcome the new season with stylish and useful solutions that protect your eyes from harmful radiation.
To book an appointment for ophthalmology check, please call at your nearest store. Our staff are always happy to serve you.