What is an Eye Examination?
An eye exam is more than just a letter test. A complete eye examination consists of many small tests, each providing information about different parts of the complex visual system. A regular eye exam is a key for good healthy vision. Optometrists recommend that all people should have periodic eye examinations on regular basis, especially since many eye diseases are asymptomatic. Eye examinations may detect potentially treatable blinding eye diseases, signs of tumors or other anomalies. Call us for an appointment and one of our Optometrists will give you the full eye examination.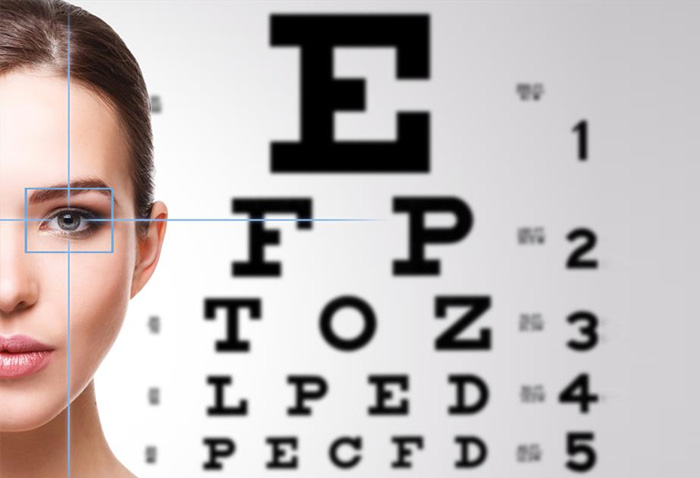 Who are Optometrists?
Optometrists are your primary eye care specialists. Optometrists are trained to provide the best standards of eye care, ranging from a review of overall eye health and visual function, to prescribing eyeglasses or contact lenses and in some cases referring for the further treatment to an Ophthalmologist.
Optometrists are your front-line care providers in eye health.
Structure of Eye Examination at Nicolaides Opticians
Step 1. Basic Eye Tests.
Relevant Medical History.
The first step of the proper eye examination is getting the medical and ocular history, and the medical ocular history of your family. It is important to determine your risk factors for certain eye health conditions and overall health conditions that may affect your eyes. It is also important to know if you are taking any medicine, since some medicine could interfere with vision. Your ocular history includes your previous and current eye conditions and prescriptions.
Vision Examination.
As a baseline, our Optometrist will examine your vision using the letter chart. This will help to evaluate the clearness of your vision.
Eye Movement Examination.
In order to determine how well your eyes function in terms of movement, our Optometrist will make a number of eye movement tests to determine if there are any underlying problems.
Objective Refraction.
Your eye refraction will be first evaluated using a computerized system, this system will perform a series of tests to determine the optical power of your eye.
Subjective Refraction.
Having computer data and your previous prescription as a starting point your vision will be carefully examined by our Optometrist using trial frame with lenses. A series of lenses are used to assess refractive abnormality in your vision and define the correct prescription. This part of examination is important since computer data are raw and cannot be recognized as a ready prescription. Our Optometrist will determine the correct prescription for eyeglasses or contact lenses depending on your needs. Only Optometrists after making this subjective refraction can develop the proper prescription needed for your requirements.
Step 2. Detailed Examinations.
Ophthalmoscopy is a test that allows our Optometrist to see inside of the eye and other structures. This is conducted to help detect symptoms of conditions such as retinal detachment or glaucoma.
Slit Lamp Examination. A Slit Lamp is used to shine a high intensity light onto the eye allowing a better more careful magnified and detailed examination of the outside features of the eye such as eyelids, and cornea.
Eye Pressure Measurement is conducted by our Optometrist in order to evaluate the eye pressure and to assess if you are at risk for glaucoma.
Step 3. Additional Examinations.
A Visual Field Examination is used to detect and measure visual field loss, caused by damages in optic nerve, brain, glaucoma or other conditions. Our Optometrist will help determine any visual field loss and refer if needed to a specialist Ophthalmologist for further investigation.
Corneal Topography is an examination and mapping of the surface of the cornea – the outer structure of the eye. Since the cornea is normally responsible for some 70% of the eye's refractive power, it's of critical importance in determining the quality of vision.
Step 4. Result Interpretation And Visual Aid Prescription.
Professional Advice. Depending on the findings of all the previous examinations, our Optometrist will give you expert advice about your needed prescription and type of correction suitable to suit your eyes and your lifestyle.
Summary
Based on the full eye examination performed by our Optometrists you will be given prescription, advice or, if needed, you will be referred for further examination to the Ophthalmologist Orthoptist. All the information about results of the examination will be kept in privacy in our shop and can be accessed by you at any time. Next time, when you will make an eye examination we will be able to compare the results with your previous eye examinations. The Frequent eye examinations help to keep your eye sight clear, monitor your eye pressure and quickly discover changes in the structures of the eye, avoiding having more serious problems in the future.
Our Optometrists will help you to make your life more comfortable and pleasant by making you see better.
Every detail counts!